Status Report Of The NOBEL-Project 2019/10/07
This is what we have achieved:
A system where buyers of NOBEL support the sellers
The domain https://nobel.charity
A discussion platform for charity projects
Several people writing blogs regularly
People that have staked NOBEL and upvote and comment
Daily transactions with the NOBEL. (Check out here)
At least one regularly buyer of NOBEL (me) and some small buyers
This is what is missing:
More buyers
Some detail work in the whitepaper and FAQ
Enabling the tribe in steempeak.com
These are the next steps:
We need to find more buyers of NOBEL. These are mainly people that want to donate or invest into a coin with value. So we need to do more advertising. But more important, we need to show people, that are willing to donate, how they can do it with NOBEL.
I'm going to explain it in our church, but this is nothing for this year, because I have to renovate a room in my house and therefore I have very poor time until end of year.
In the next weeks I'm going to buy (for another 1000 STEEM) the enabling of the NOBEL tribe in steempeak.com to get a bigger community.
What You can do:
If you know people around you, that are willing to donate but don't know about NOBEL, please onboard them. Show them the benefits of this effective way of donation.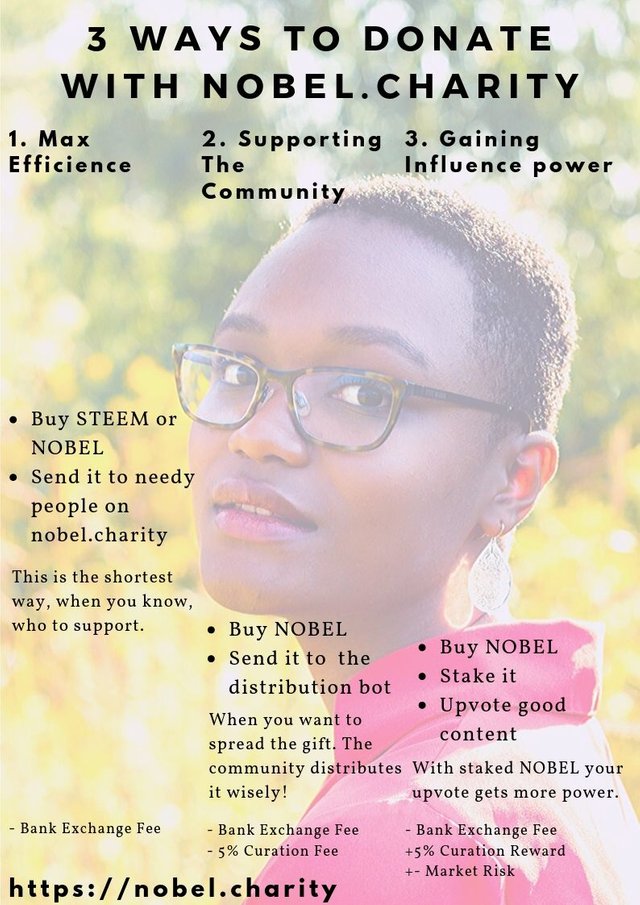 Please explain them, how to create accounts on an exchange bank, how to get STEEM and how to get NOBEL.
When I find some time, I'm going to create a video. You can do the same (or give me links to good explanations in the comments).
Regards, Achim