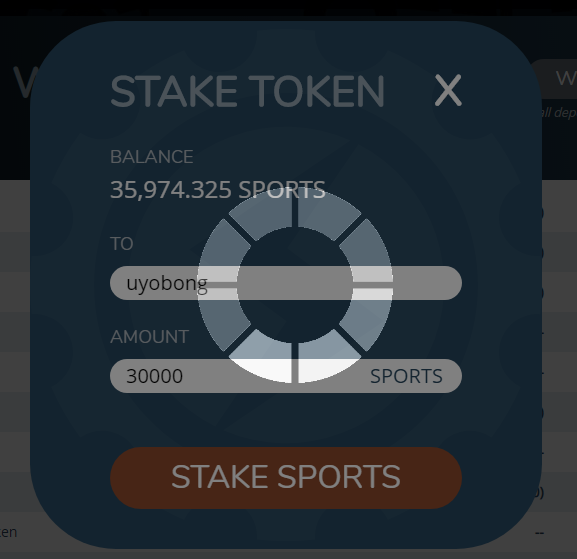 The power of living is in the mind and successes or failures in life are first determined in the mind. Indeed, I believe the Bible which says that "as a man thinketh in his heart, so he is..".
We can never outgrow the quality of our minds. Whether we be rich or poor, it all starts from the mind because all our actions are voluntarily or involuntarily controlled by our thoughts.
Few weeks ago, while I was pursuing to reach a 500k State in SPORTS token, it seemed to be a very big achievement, until I've seen steemians stake 1, 2, 3 million of SPORTS and I told myself the journey has just begun.
I'm grateful for the level I've reached , though, I believe I can attain more feat. I so believe that the SPORTS token will someday grow amazingly, the reason I am devoted to a continuous stake upgrade as well as continuous promotion on Facebook.
For now, I am looking forward to reaching the 1 Million SPORTS stake mark in a few weeks, preferably before the end of 2019. TO achieve this, I will endeavour to make at least a 10k stake in 2 days.
Today, I staked 30,000 SPORTS and hope to extend my span of curation.
You may view my blog to see efforts I am putting in to promote #sportstalk on Twitter. I do this becuase I believe in its imminent growth.
I am convinced that projects that are built on the blockchain are future minded.
Below are my previous reports on the investment project on Steem-engine tokens:
In the coming weeks (certainly before the launch of SMTs), I see myself becoming an influential curator on the #Marlians and #Sportstalk tags on Steem. It gives me so much joy when I am able to contribute value to people. I have been so challenged since I join steem seeing people investing so much to encourage others to engage their blogging skills.
---
My next target will be to becoming a #LEO whale. Thanks to @khaleelkazi and the entire @Steem.leo team for the awesome investment mindset they brought to the Steem-engine.
---
You may need to know some other awesome Communities I identify with on Steem
@Steemchurch has been a home here with a special trait of sharing love and freedom. This is a vision of @Sirknight who has sacrificed so much to ensure that 100+ users enjoy love curation (at Zero cost) from @Sniffnscurry. The community in the present is administered by a woman with a brave heart @Darlenys01 and we've had several blessings and prosperity being a part of our community. Joining #Steemchurch is FREE.